Why Didn't WE Think of This?


Watch the video that launched
the runaway #Walk Away movement


Watch and listen to Brandon Straka's statement--the statement that has reportedly inspired hundreds of thousands of DEMOCRATS to leave their party, to recognize the importance of thinking independently, to say the love America, and to feel a strong impulse to REUNITE with other Americans. It has inspired them to make personal video statements--their #Walk Away Stories. Straka is asking conservatives to make their own videos, telling his followers why they are conservative, what it means to be one, how they came to become conservative. They need to hear from us!!!


I asked a question in the headline: Why Didn't We Think of This? It's a question that does need to be asked. And my answer for it is: Indeed, why? Why did we conservatives never think of raising our voices to give the truth a place on the stage of public opinion? Every one of us knows, in spades, every fact presented by Brandon Straka in the video above.


We conservatives have wrung our hands for years, bemoaning the fact that "no one wanted to listen." We could never understand how Democrat voters could be so fooled. Now, we find out that they weren't all completely fooled. We learn that many felt stuck, or intimidated, and thought they had no place to go.

Powered by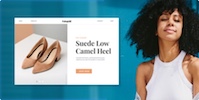 Create your own unique website with customizable templates.